New features make Amplitude more powerful and easy to use

While we're nearing the end of 2022, our Product Team shows no signs of slowing down!
Last month we shipped 16 new features and experience improvements to help you get more value out of Amplitude with fewer clicks. 
Updates are available to all Amplitude customers and in the EU Data Center unless specified.
 
---
Summary

New Analytics releases
Campaign reporting tools

New navigation [Open Beta]

Create, save, and manage Metrics [Open Beta]

Object Management Center

Pathfinder improvements

Session Metrics
New Data releases
Data General Availability

Accounts Add-On

Usability improvements
New Experimentation releases
EU Data Center availability

New experiment types

Seamless lifecycle management

Statistical significance data on the homepage

Duration estimates

Uplift notifications
---
New Analytics releases
More reporting tools, new experiences
Understand how acquisition spend drives product growth with campaign reporting tools
Last month, we announced the open beta of new campaign reporting tools. We're excited to share that the following features are now generally available to all Growth and Enterprise customers:
Acquisition Channels - Identify where acquisition traffic comes from alongside your other performance measurements. You can also create rules that use existing properties and property values to automatically classify the channel used to source respective events in your product. Read more about Acquisition Channels.

Access this new feature from the Govern Console. 
 
Multi-Touch Attribution - Distribute credit for your marketing programs easily using pre-built attribution models that you can configure on your metric. You can also create a custom model. Read more about Multi-Touch Attribution.

Unlike other solutions, Amplitude enables unlimited look-back windows on attribution. By combining product and acquisition data, you can attribute product usage by acquisition source and see how product features or content impact product success events.

Access this new feature in Data Tables.

Combining Acquisition Channels and Multi-Touch Attribution lets you understand how your channels impact bottom-line product outcomes, such as which channels bring in power users, drive conversion, and retain users over time.
 
Ad-Network integrations - More easily measure how ad campaigns perform. By integrating campaign data such as cost, impressions, and clicks, you can unlock new insights into overall campaign performance and return on investment. Read more about Ad-Network integrations.

Access this feature with Google and Facebook via their Data Sources page.
Learn more about Campaign Reporting.
Unlock the value of Amplitude even faster with our new navigation [Open Beta]
Our improved navigation user interface (UI) makes it easier than ever to get started in Amplitude. Here's what's new:
Universal navigation bar - Access key actions such as "Create new," "Access home," "View recent," "Spaces," and "Cohorts" in one place at the top of your screen.
 
Favorites improvements - Now, you can unfavorite objects in bulk and drag and drop favorites to you can keep them in your preferred order. Cohorts have joined reports, dashboards, and notebooks as items you can favorite.
 
Updated search prioritization logic - See the most popular content in your organization at the top of the list when you search.
This Open Beta is not available in the EU Data Center.
Learn more about new navigation.
Create and save core metrics for your product, marketing, and growth teams to reference [Open Beta]
Now, you can build and save reusable formulas, called Metrics, throughout the Amplitude interface. Project administrators can verify metrics to standardized for reuse across different analyses and your entire organization.
Access this feature within event segmentation by clicking the dropdown. You'll see the option to select events or metrics.
This Open Beta is available for Growth and Enterprise customers.
Learn more about creating, saving, and managing metrics.
Enjoy a one-stop shop for managing analysis objects with the Object Management Center
Reduce clutter and increase confidence for end users when building analyses by managing analysis objects such as custom events, metrics, segmentation, and cohorts in one place. 
Now when you create an analysis, you can view similar objects to reduce duplication and officiate objects. Once you've created your analysis, you can view metadata, search for and edit existing objects, and jumpstart analyses from the object itself.
Access the Object Management Center from the left navigation panel. Or, if you're in the new navigation UI open beta, click on the square icon next to the bell icon in the top right corner of the navigation panel.
This feature is available to Enterprise customers.
Learn more about the Object Management Center.
Save time and improve the accuracy of your analyses with Pathfinder improvements
You can now exclude specific events by specific property values. When you have certain events you want to see, you can include only those events instead of manually excluding all irrelevant ones. This makes insights from your analysis more actionable. 
Access this feature within Pathfinder by clicking "Hide or show events."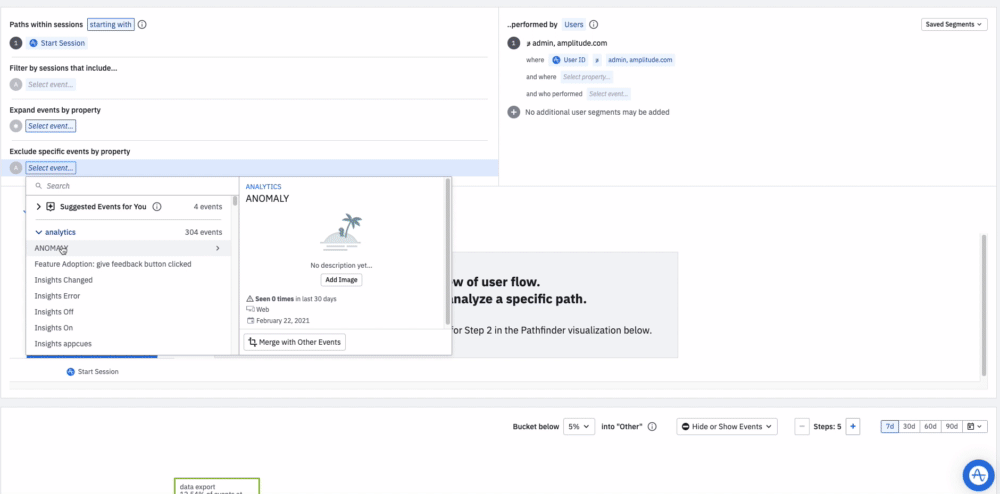 Access Session Metrics in Data Tables and Event Segmentation Charts
Session Metrics such as bounce rate or exit rate are now available in Data Tables and Event Segmentation Charts. Session metrics are helpful diagnostic tools for obtaining a deeper understanding of how campaigns or content items perform. 
Access Session Metrics options by adding a Metric to a Data Table. Toggle from the "Events" tab to the "Metrics" tab, then expand the session section and select your desired metric.
This feature is available to Growth and Enterprise customers.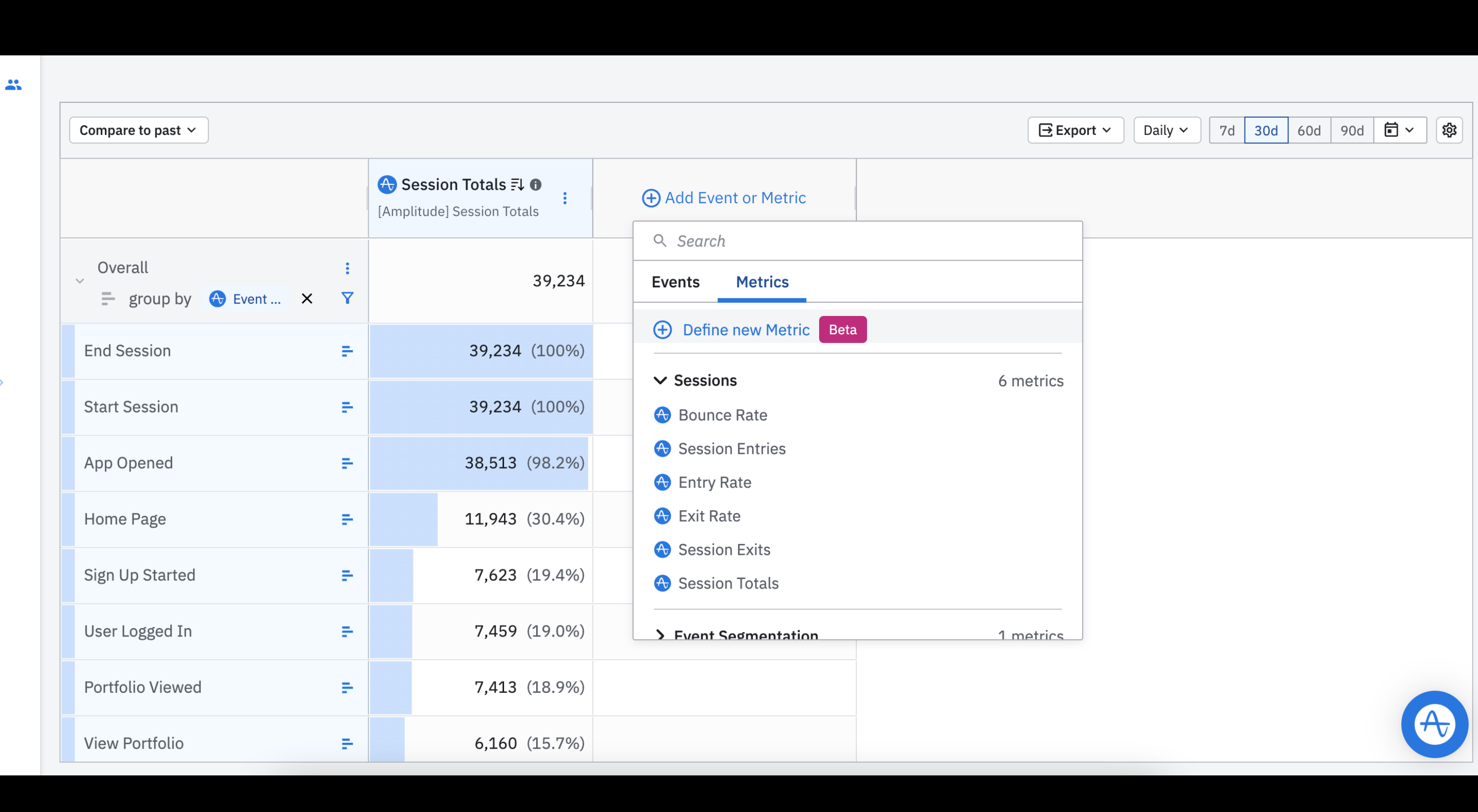 Learn more about Session Metrics.
 
---
New Data releases
Generally available features, new self-serve migration options
Amplitude Data is now Generally Available
We are excited to announce the General Availability (GA) of Data, a unified data management console that combines features with Govern, Sources, and Destinations into one interface.
Access all the new features of Amplitude Data for customers using Accounts Add-On
Customers using Accounts Add-On now get access to Data features such as collaborative planning capabilities, observability features to monitor data quality, and new developer tools that help instrument your events correctly from the beginning.
Collaborate on and govern event data more easily with usability improvements
As part of making Data generally available, we improved usability across several features, including how you manage properties with event-level property overrides and the ability to configure multiple environments that you can manage with a single tracking plan. These updates help improve trust in the data for end users building analyses.
 
---
New Experimentation releases
Better visibility, better experiments
Amplitude Experiment is now available in the EU Data Center
Experiment customers in the EU can now easily align their experimentation program with local data privacy standards. By combining EU Data Center availability with enterprise-ready security certifications like ISO 27001 and SOC 2 Type II, EU-based Experiment customers can feel confident that their customers' data is fully protected and adheres to local regulations.
Create better experiments by defining the experiment type
Now, you can easily define your experiment as a "Hypothesis Test" or a "Do No Harm" experiment during the planning phase to clarify your next best actions after the experiment ends. 
When starting an experiment, select a "Hypothesis Test" to run experiments that tests the impact on conversion rate metrics or a "Do No Harm" experiment that ensures any significant changes to your experience don't hurt more critical business metrics.
Better understand the status of your experiments with seamless lifecycle management
Understanding the status of every flag and experiment fast is critical to delivering experimentation at scale. New columns identify the primary metric, progress, and last modified date for all your experiments. Filter by eight different aspects, including status, decision, primary metric, and more, to check in on specific tests.
Make decisions faster with statistical significance information right on your homepage
You can now see the following statistical significance ("statsig") metrics on the Experiment homepage:
Which experiments have reached statsig
The time it will take for each active experiment to reach statsig
The relative performance of each variant
Identify if an experiment won't reach statistical significance with duration estimates
Avoid setting up experiments that will never reach statsig. New duration estimates alert you if you need to redesign your experiment to have enough exposures to achieve statsig.
Identify suspicious results quickly with new uplift notifications
If you tweak an experiment and start seeing dramatic results, there's likely an issue. Don't make decisions based on bad data. New notifications automatically detect and alert you of a suspicious uplift so you can quickly spot and fix potential issues.
---
You're moments away from getting started with these updates