New features to help scale your most important work
In February, we released a slew of feature enhancements to give your team even more powerful insights and reliable data, as well as new experimental controls to help your programs scale.
Updates are available to all Amplitude customers and in the EU Data Center unless stated otherwise.
 
---
Summary

New Analytics releases
New Funnel chart updates

General availability of space edit access
New Data releases
More complex cohort logic with new OR clause capabilities [Beta]

General availability of Webhook Event Streaming

Analytics SDK and Ampli wrapper for Go

Partner integrations for Productboard, Plotline.io, Marketo, and Bento
New Experimentation releases
CUPED availability

Data Quality Checklist

Python and Golang SDK

New endpoints for the Management API [Beta]

Archived experiment improvements
---
New Analytics releases
Better funnel insights, easier collaboration
Get deeper conversion insights with updated funnel charts
Funnel charts are more powerful than ever. Our latest updates make it possible to:
Calculate the total revenue attributed to a conversion
Apply a conversion window of 90+ days to help businesses with longer funnels get quality insights
Access these updates by opening the Funnels Chart in Analytics.

Learn more about building a funnel analysis.
Space edit access is now generally available
Now all Amplitude customers can easily co-create and maintain analyses across charts, dashboards, notebooks, and Cohorts. Space edit access eliminates access issues in situations like:
Increasing object ownership to new teams or individuals
Providing an existing team with access to multiple objects
Maintaining edit access to objects owned by former team members
Determine who views, adds, or edits all objects within a Space. When moving charts into a Space, you'll also see new disclosure badges on content. 
Access this update from the Share button within team Spaces.
Learn more about Amplitude Spaces.
---
New Data releases
Unlock new capabilities with cohorts, integrations
Use more complex logic to build cohorts with new OR clause capabilities [Beta]
You can now use OR statements on top of AND clauses when creating cohorts. This new option lets you more easily create complex segments which satisfy one condition or another.
Here's an example cohort you can build with this new feature:
Growth and Enterprise customers can access this feature in the Cohort Builder.
Webhook Event Streaming is now generally available
Get more granular control over what data you send to the rest of your stack. Webhooks Event Streaming allows you to select which event, user, or group properties to include in the payload of forwarded events.
Access this feature by navigating to Data Destinations within the Catalog section of Data. Learn more.
Go SDK for Analytics is now generally available
Streamline Amplitude data collection in your Go applications with the Go SDK for Analytics. It comes with Ampli wrapper and has full feature parity with other next-generation SDKs, including custom plugin support.
Access this feature by navigating to SDK sources in the Catalog section of Data.
Learn more about Analytics SDK and Ampli Wrapper.
Enjoy integrations with Productboard, Plotline.io, Marketo, and Bento [Beta]
Access these integrations from Data Sources within the Catalog section of Data.
Unless specified, these integrations are only available to paid users and not in the EU Data Center.
---
New Experimentation releases
Reliability, scalability, organization enhancements
Generate more reliable experiment results with CUPED
Teams can now use CUPED (Controlled-experiment Using Pre-Existing Data) methodology to analyze A/B test results in Experiment.
In traditional A/B testing, teams get the average treatment effect by comparing the average outcomes of a treatment group to a control group. This assumes the treatment effect is the same for all individuals, which isn't always true in practice.
CUPED addresses this limitation by estimating the treatment effect separately for each individual and then aggregating the individual estimates to get an overall assessment of the treatment effect.
Access this feature by toggling CUPED 'On' in the Statistical Settings section of the Analyze tab. 
Learn more about CUPED availability.
Follow experimentation best practices with Data Quality Checklist
Feel more confident setting up and running your tests–especially as you scale. With our new Data Quality Checklist, Experiment runs a series of automated data quality checks to uncover potential issues that could skew your results. Get the next steps for fixing these issues with sample ratio mismatches, variant jumping, or exposures without assignments. 
Access this feature in the Analyze tab. You'll also be alerted proactively with our automated notifications.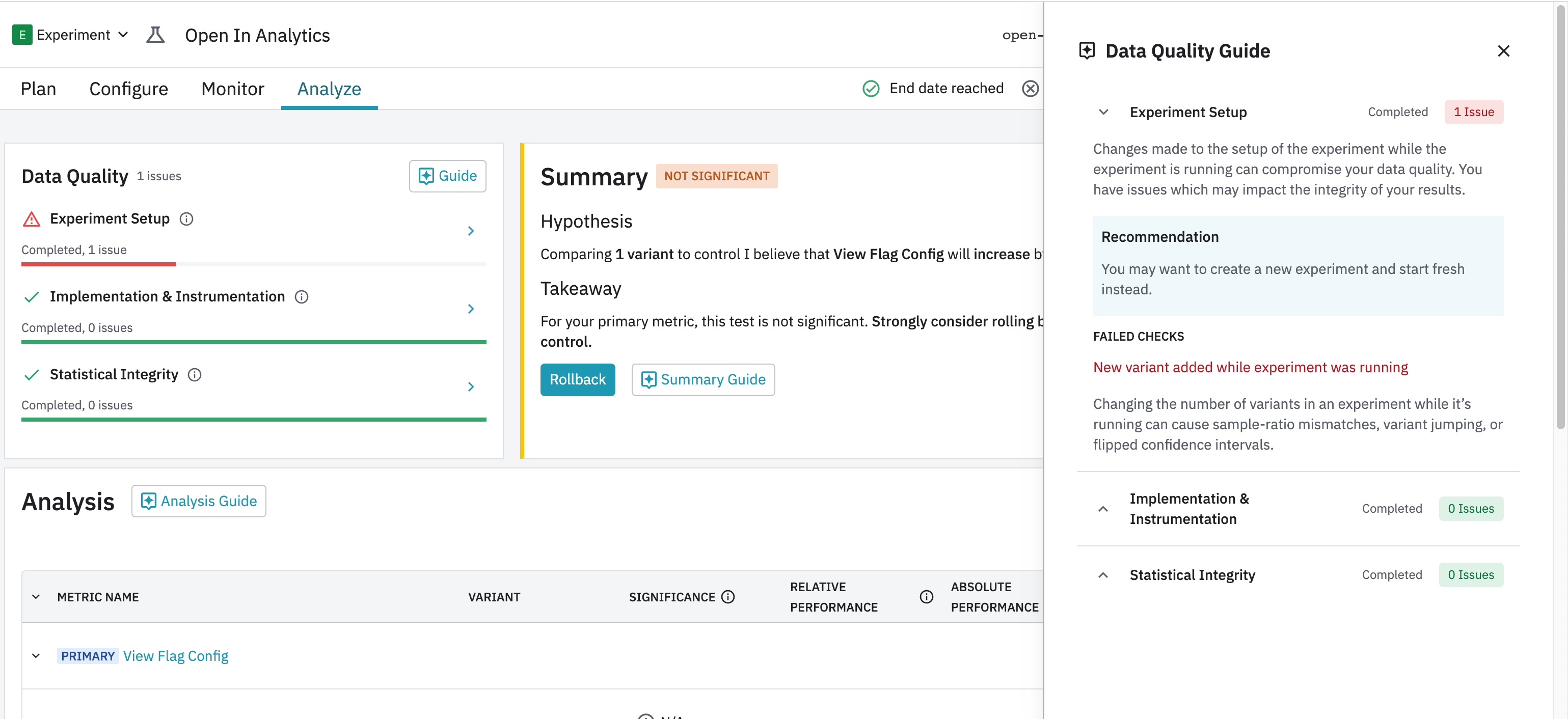 Python and Golang SDKs now available for Amplitude Experiment
Developers working with Experiment now have two new SDKs generally available to help them better support their test programs: Python and Golang. Both SDKs support Remote and Local evaluation.
Access this feature in the Amplitude Development Center.  
Learn more about Python SDK and Golang SDK.
Automate QA with new endpoints in Management API [Beta]
We're releasing functionality for the Experiment Management API that allows customers to leverage new auditing capabilities. The enhancements offer updated endpoints for both feature flags and experiments, including new Variants, Variant users, Edit flag/experiment, and Get experiment version details. 
Customers can request to try out an early version of the API in the Amplitude Developer Center. 
Organize and restore experiments easily with new Archive capabilities
Archiving improvements are here! As customers scale their experimentation programs, one of the top requests we hear is for better organization tools. Now you can review, search, and restore old tests in one view. Click into archived flags and experiments for a read-only view of configuration and data. Restore items if you wish to make new changes.
Search and sort for archived experiments and flags on the Experiment homepage.
 
---
That's a wrap! Here's what's next: