New enhancements make Amplitude easier, more powerful

Here at Amplitude, we pride ourselves on being the go-to analytics platform for customer behavior and product-led growth.
With new updates coming out every month, we're excited to share our April batch, which focused on simplifying the user experience without sacrificing power, customization, or speed. 
Updates are available to all Amplitude customers including the EU Data Center, unless stated otherwise.
  
---
Summary
New Analytics releases
Hide inactive events in Pathfinder and Journeys

Customize y-axis label in Charts

Projects page sorting on events
New Data & CDP releases
Auto-save in Data

Re-use Snowflake import credentials

New event streaming integrations generally available

Create cross-object cohorts

SDK migration tools

Behavioral Cohorts API improvements [Beta]

Security enhancement
New Experiment releases
Evaluation Proxy service [Beta]

New experience for allocation and targeting

Duration Estimate Updates
---
New Analytics releases
Better curation, simplified tools
Amplitude Analytics helps you visualize the full user journey and offers proactive insights so you can drive new levels of growth.

Auto-Hide Inactive Events in Pathfinder and Journeys
Our Pathfinder chart is getting even more TLC! Back in January, we introduced custom events in Pathfinder to let you group custom events for easier analysis via the Filter Events dropdown. 
This month, we're introducing a new update that auto-hides inactive events in Pathfinder and Journeys. This allows for better event curation and helps you yield better insights, faster.
Access this feature within the Pathfinder or Journeys chart.
 Learn more about setting up Pathfinder charts.
Customize y-axis labels in Charts 
Previously in Charts, users were not able to update their y-axis labels. With this new update, you can now add even more customization to your charts! Include a Title for your Y-axis, set Minimum and Maximum y-axis values, or leave these fields blank to default to automatic settings.
This feature is available for our event segmentation, sessions, and funnels (over time) charts. You can also view customized y-axis labels in Dashboards and Notebooks.
Learn more about customizing charts in Amplitude.
Identify high impact projects with event sorting
Our project page is now sortable by events, for both this month and last month. With this new update, customers who want to identify which projects have a high impact on their volume, can now easily sort projects based on this criteria for better insights around events.
Access this feature by navigating to Amplitude Settings > Projects.

---
New Data & CDP releases
Expanded ecosystem, feature & usability enhancements
Amplitude Data helps you proactively manage and govern your data, while Amplitude CDP helps unify your customer data, discover new audiences, and activate those audiences across your stack.
Rest easy with auto-save
Changes made in Amplitude Data are now automatically saved and published to your main branch. This removes the need for users to save changes manually so you can rest assured you are operating with the latest information.
Re-use Snowflake import credentials
When setting up a new Snowflake SQL import, customers now have the option to select an existing Snowflake source, rather than re-entering their login information every time. By using existing connection information, we hope to speed up the time it takes to create additional connections.
Access this feature by navigating to Connections within the Data app.
New batch of event streaming integrations now generally available
After a huge year of growth for event streaming, we're thrilled to offer 10 more destinations to help unify your tech stack and provide an even more comprehensive view of your customers. 
The 10 new destination include:
AppsFlyer

Branch

Braze

Customer.io

Google Analytics 4 (mobile and web)

Intercom

Iterable

Meta Pixel

Webhooks
All destinations now support selective property and user (identify) forwarding where applicable, as well as a new, streamlined experience for setting up event streaming destinations. Lastly, users are now auto-forwarded when user properties change on events – not just from Identify API calls. 
Access event streaming by navigating to Data Destinations within the Catalog section. Users will be able to configure this on a per destination level for each event streaming destination. 
Create cohorts across-objects
Ready to activate your highest-value segments? Our latest release enables cross-object cohorts to help you do just that. For example, users can now create a cohort of accounts, and then segment the users within those accounts inside the cohort builder.
Users with the B2B Accounts add-on can access this feature by logging into Amplitude Analytics and navigating to Cohort Definition Builder. 
 
Simplify migration with SDK Migration Guides
We've released two new developer guides focused on migrating from other CDPs, including Segment and mParticle. These guides provide step-by-step instructions on how to migrate your Source and Destination configuration, update SDK implementation to send data to Amplitude, and validate whether your migration is successful.
All guides can be found in the Amplitude Developer Center.
 
Gain more user info with Behavioral Cohorts API improvements [Beta]
Behavioral cohorts are defined by user actions taken within a specific time period. They allow you to group together different users based on the events they've fired in your product. 
With our latest update, we have several new attributes that you can query in the Cohort API, including: sync status, last sync date, sync type, Archived, and discoverable / hidden.
This allows paid customers to programmatically access more user information so they can deliver more personalized experiences.
Learn more about the Behavioral Cohorts API.
 
Security enhancement
This release adds support for AWS Key Management Service (KMS) encryption in the destination S3 bucket, helping your organization improve its security posture.
Learn more about how to take advantage of this enhancement.
---
New Experimentation releases
Configuration, speed enhancements
Amplitude Experiment helps you test, analyze, and optimize your product at scale.
Evaluation Proxy Service [Beta]
The Evaluation Proxy is a containerized service to enable, enhance, and optimize local evaluation running within the customer's infrastructure. This service helps you:
Enhance local evaluation with large cohort targeting. Targeted cohorts are synced hourly to the evaluation proxy, and applied to the user prior to evaluation.

Enable local evaluation on unsupported platforms. Use remote evaluation APIs and SDKs to run local evaluation by making requests to the evaluation proxy service.

Automatically track assignments for local evaluations. Evaluations performed on the local proxy are automatically tracked as assignment events, deduped daily.
During testing, Evaluation Proxy allows you to keep user context in mind without sacrificing performance. Bonus points? Developers can now leverage contextual insights to connect user data to their release workflow and reduce latency by 4,000%. 
Access this feature via Local evaluation for your experiments.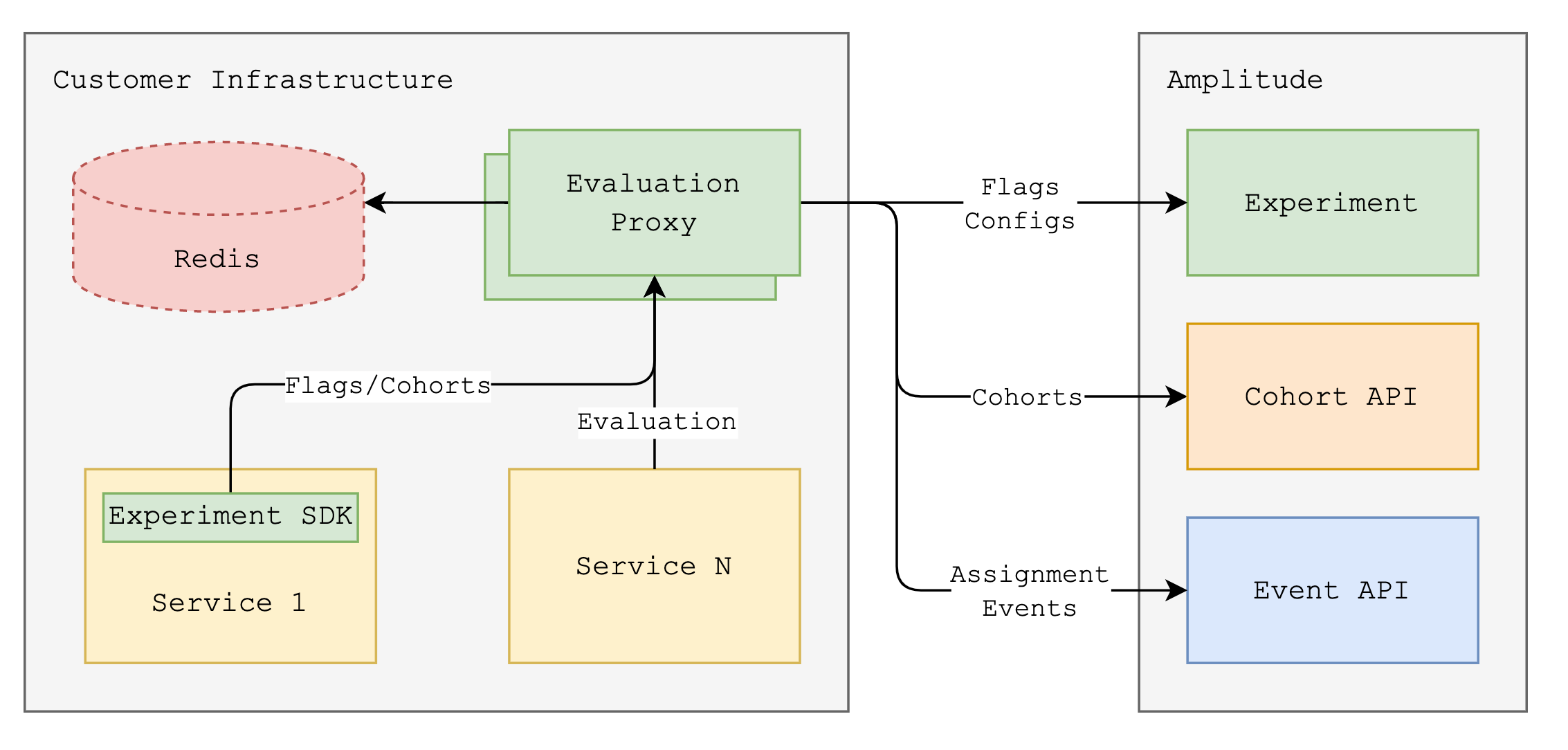 Learn more about the Evaluation Proxy service in our Developer Center. 
Experiment faster with improved allocation and targeting experience
The simpler, the better! For customers who've struggled with setting up experiments, we're excited to announce a simplified approach to allocation, targeting, and rollout for your flags and experiments.
Individual targeting has been moved to a new Testing card, and the Allocation card has a simplified, guided setup experience. Users won't be exposed to less common configuration options like targeting segments, stratified sampling, and uneven distribution, until they need them – helping you get up and running faster than ever.
Users can access the new experience through the Configure tab.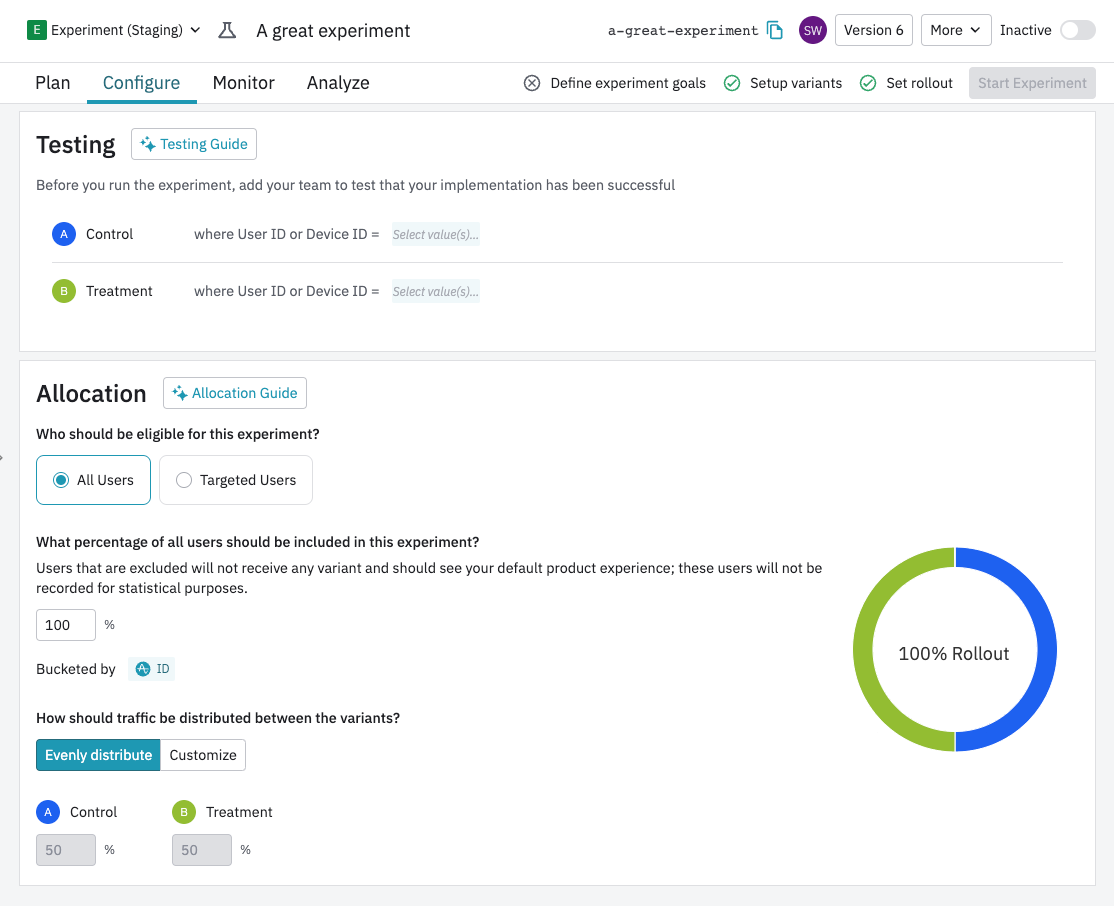 Learn more about allocation in our help center.

Understand testing timelines with new duration estimates
For fans of our duration estimate, you can now leverage this tool with T-Tests. Previously limited to Sequential Testing, the duration estimate helps you gauge approximately how long your test needs to run before it reaches the sample size threshold.
In addition, we've added the MDE being outside the confidence interval as another stopping condition for the duration estimate, making your testing timelines more accurate than ever.
Access this feature through the Analyze tab.

Learn more about duration estimates in our help center.
---
That's a wrap! Here's what's next: