Drive better business decisions from clearer insights
We're closing out Q1 on a high note! With our March feature releases, you can expect deeper insights, greater flexibility, and even more powerful experimentation tools.
Updates are available to all Amplitude customers, including the EU Data Center, unless stated otherwise.
---
Summary
New Analytics releases
New Chart Controls [Opt-in Beta]

Funnels updates

New Notification experience [Beta]

Data Tables improvements

Atlassian Smart Links update
New Data releases
General availability of Identify Forwarding

General availability of User Property Mapping 

Shared Credentials
New Experiment releases
ICYMI: New release blog content

Experiment Groups

Formula Metrics [Beta]
---
New Analytics releases
Deeper insights, more powerful controls
Speed decision-making with new Chart Controls [Opt-in beta]
We've redesigned our chart creation flow to make analysis easier for new and experienced users alike. Improvements include:
A Guided, top-down structure with a linear flow simplifies the layout so users can easily orient themselves, making learning and teaching Amplitude easier than before. A side-by-side view with controls on the left and chart on the right enables instantaneous feedback on how changes impact the chart, helping you better explore your data.

New Responsive Layout means users can click and drag the controls wider to have more space, and at a certain point, the segment card "snaps" to the top of the controls in a format that is similar to our older layout. This gives the user more vertical real estate to build out many events+filters or lengthy segments.

Improved drop-down experience removes the guesswork from chart creation by adding new descriptions, categories, and metadata to the drop-down selector.
The new experience will be available to preview starting in April for the following charts:
Event Segmentation

Funnels

Pathfinder

Data Tables

Retention

User Composition

Sessions
Users with new side controls can access these features by opting into the early beta preview. Simply click "Try our New Look" at the top right corner of any chart listed above.
Learn more about new Chart Controls.
More Flexible Analysis with Funnels
Along with our new chart control experience, we've introduced updates to Funnels that offer more flexible user conversion insights. You can now:
Compare multiple events at each step of the funnel to understand the relative conversion.

Mark a funnel step as optional to better understand the conversion impact.

Define custom events for a step in the funnel directly in-line without creating a new event.

Compare property values by selecting one segment/property value as a baseline and analyzing  the rest of the segments against it for Funnel group by.
Users can access these features by opting into the early beta preview. Simply click "Try our New Look" at the top right corner of any chart with updated controls.
Learn more about in-line custom events.
Send notifications to multiple channels [Beta]
We've rolled out a brand new notification experience allowing teams to more easily subscribe to notifications about themselves or their organization. The new experience also includes an updated in-app feed with real-time updates. 
To access your notification settings, simply click on the notification "Bell" icon on the top right-hand corner and select "edit notification settings" in the corresponding window.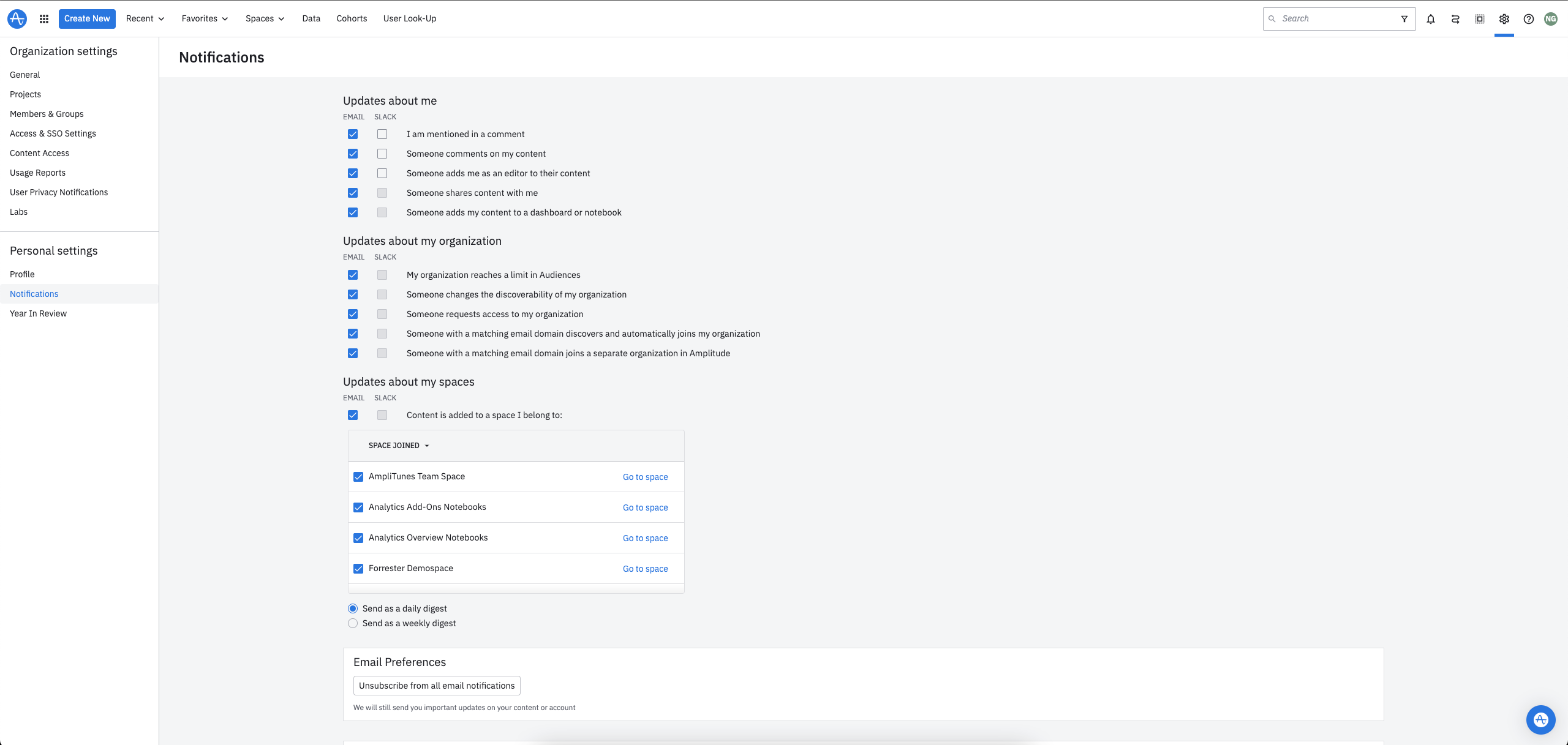 View up to 500 rows when applying multiple top-level group-bys
Previously in Data Tables, we limited the number of dimensions you could perform cross-product group bys on to protect query speed and performance. 
Now, you can apply multiple group bys that will show up to 500 rows in the UI, instead of just 10-20 rows. This enhancement helps you unlock more use cases with Data Tables, as well as make more data-driven decisions about your product and overall business.
Access these updates by navigating to Data Tables.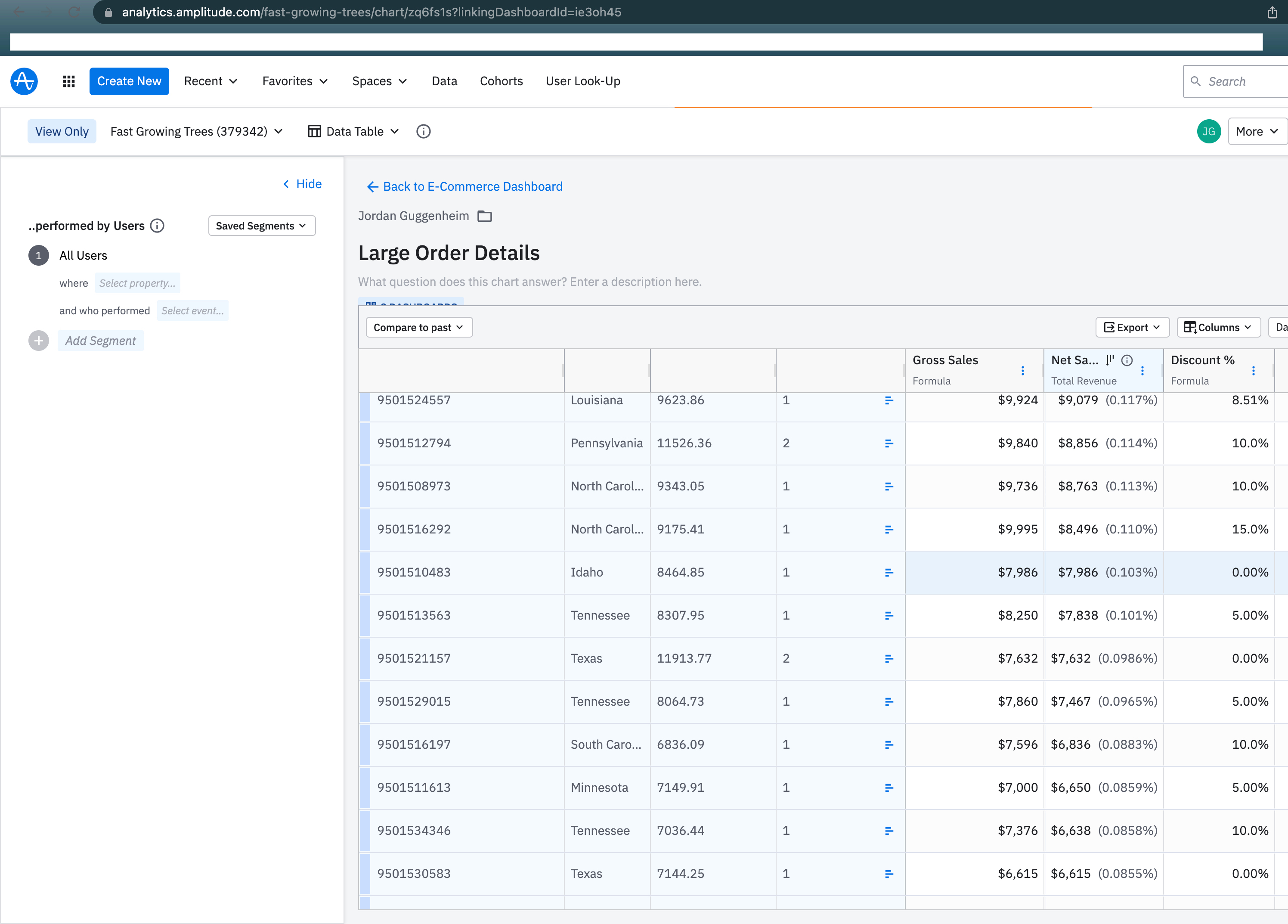 Learn more about performing cross-product group bys in Data Tables.
Unfurl Atlassian Smart Links [Now Available EUDC]
We've updated Atlassian Smart Links with Amplitude to fully support embedding charts with a new unfurl experience. Users can now paste a chart link in all Atlassian product editors and have the option of switching over to the Embed view.
This update is available to all users of Atlassian and Amplitude. It's also now available in EUDC.
Learn more about unfurling Atlassian Smart Links.
---
New Data releases
Flexibility, workflow enhancements
Identify Forwarding is now generally available
Before this release, forwarding user updates to customer destinations was only supported for updates that came through the Identify API.
Now, all Amplitude customers can forward user creation and property updates to partner destinations from either Identify or Event Track. Plus, you can configure identity forwarding on a per-destination level for each event streaming destination. 
Access this feature by logging into Amplitude Data and navigating to Data Destinations within the Catalog section.
User Property Mapping is now generally available
Amplitude now supports user property mapping to custom properties across all Amplitude-built, generally available event streaming destinations. This helps you maintain consistent mappings across your tech stack.
Access this feature by logging into Amplitude Data and navigating to Data Destinations within the Catalog section. Customers will be able to configure user property mapping on a per-destination level for each event streaming destination.
 
Set up new data connections faster with Shared Credentials 
It's now easier than ever to create new data connections. Simply use shared credentials or other parameters from your existing connections to connect your entire data ecosystem in record time. 
Access this feature by navigating to Amplitude Data, then Connections.
---
New Experimentation releases
Major updates, clearer insights
In case you missed it: Learn how our new launch helps you learn as you ship and scale experimentation
We've made major upgrades to Experiment over the past several months, including releases that help you scale your program, learn more quickly, and–of course!–improve ROI. 
Make sure you're caught up on the latest by checking out the blog posts below:
Now, back to your regularly scheduled Experiment updates.
Safely run multiple tests with new Experiment Groups
Take your experiment program management to the next level. Experiment Groups help you run multiple tests at once without compromising results or your customer experience:
Holdout groups - Set a group of users to never engage with experiments. Holdout groups allow you to establish baselines across multiple tests to analyze their results against the holdout group - even if you have low traffic.

Mutual exclusion groups - Guard customers from competing experiments. With mutual exclusion groups, you can designate specific experiments to never share user traffic.
Set up Experiment Groups on the Experiment homepage.
Learn more about mutual exclusion groups and holdout groups.
Run flexible experiments with custom Formula Metrics [Beta]
Innovate more quickly with experiments built from formula-based metrics. Use division, multiplication, addition, and subtraction to build more complex metrics natively in Experiment. This release unlocks new use cases like including weighted averages to better quantify the impact of your experimentation program.
You can now create a metric within the experiment workflow.
Learn more about formula metrics.
---
You're all caught up! Here's what's next: