New features set you and your team up for success

In December, we shipped enhancements that make features such as Data Tables and Analytics integrations more powerful and easy to use.
We also released new experiences like Data Home and integrated help in Experiment to surface critical information when you need it, right in Amplitude.
Updates are available to all Amplitude customers and in the EU Data Center unless specified.
 
---
Summary

New Analytics releases
Universal navigation updates

Data tables enhancement

Increased timeframes for Pathfinder

Daily custom alerts for Growth Plans

Rich text editing in Notebooks [Beta]

Unfurling improvements in Slack and Notion
New Data releases
Amplitude Data migration updates

New Data Home

New Node.js, iOs 3.0, Ruby 1.0 SDKs

Google Tag Manager template for Marketing Analytics Browser SDK
New Experimentation releases
---
New Analytics releases
Enhancements to recent releases
Access important information more easily with updates to universal navigation
Last month, we announced a new user experience that makes it easier to get started in Amplitude, improves collaboration, and helps teams unlock value faster. We've made additional updates:
With the new Help icon, the Amplitude Community, Help Center, and Digital Customer Success team chat are one click away.
Persistent object headers and toolbars across charts, dashboards, and notebooks offer helpful background information and make it easy to share your insights.
Manage key information about your projects in one place. Releases have moved and now live under Settings > Projects on the bar beside Annotations.
These updates are not available in the EU Data Center.
In case you missed what changed in our new navigation, check out this video: 
Learn more about new universal navigation.
Summarize large amounts of data with an update to Data Tables 
Data tables make multi-dimensional analysis possible right within Amplitude. 
Now you can analyze data right away when you export data tables to CSV by removing overall rows and making it so group by columns are no longer concatenated.
Access this update within the Data Tables experience.
 
Analyze user behavior over longer timeframes in Pathfinder
We've increased the timeframe for Pathfinder from 30 to 45 days so you can analyze how users move through your product or website over longer periods of time.
Access timeframe options from the top right-hand corner of the Pathfinder experience.
This release is only available to Growth and Enterprise customers.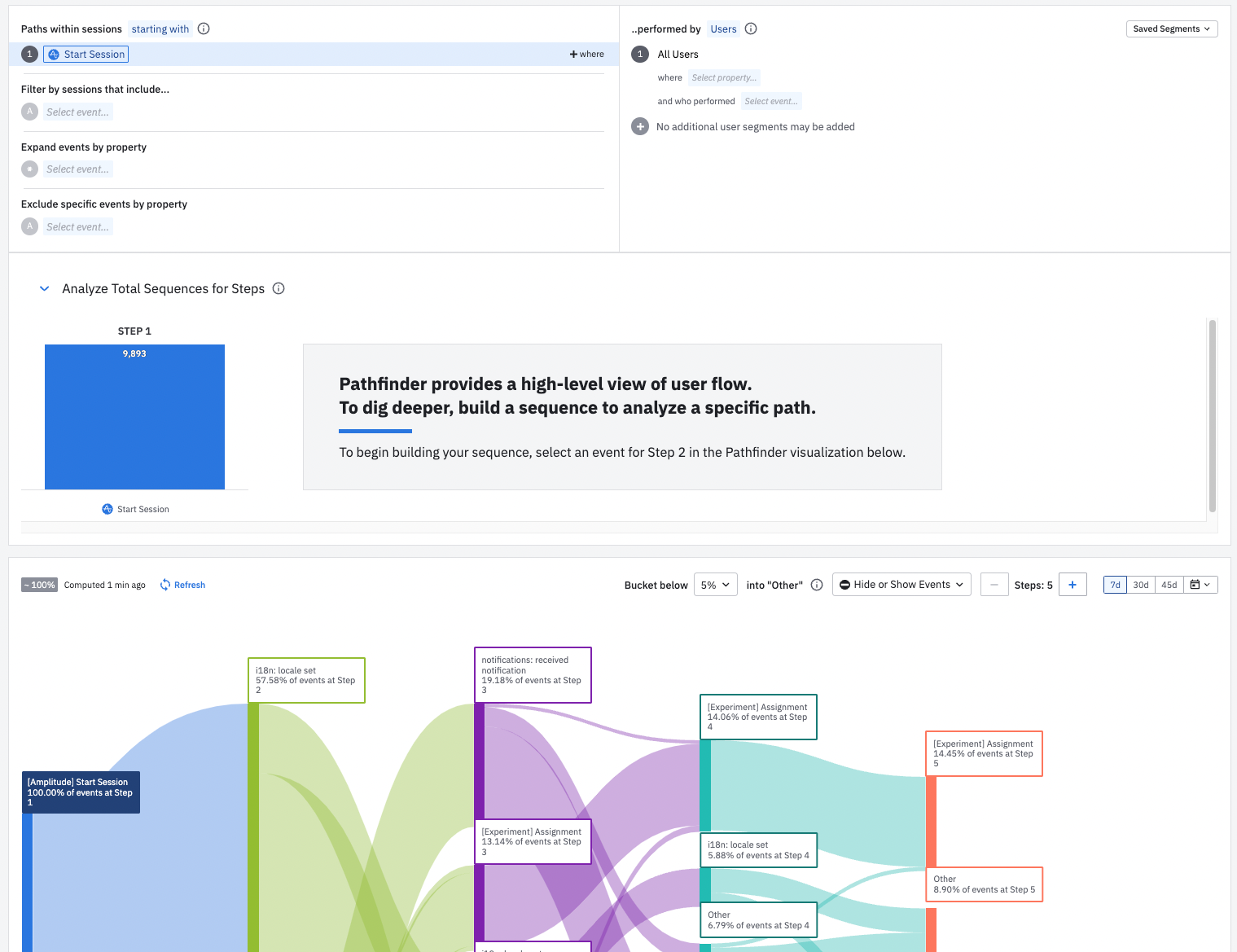 Access daily custom alerts in your Growth Plan
If you have a Growth Plan, you now get Daily custom alerts. Select the conditions under which you want to receive a custom alert. You can also set an alert based on confidence interval. Choose whether to send your custom alerts as email notifications to designated members of your team so they can take action.
You can set a custom alert for any saved chart. Navigate to the chart for which you want to set an alert, then click the bell icon to open the quick set-up tool and create a custom alert.
Learn more about daily custom alerts in Growth Plans.

Edit Notebooks more easily with formatting enhancements [Beta]
The new formatting toolbar makes it easier than ever to apply styling to your text. Save time composing notes with supported common keyboard shortcuts and markdown inputs. 
If you're not seeing this experience yet for new notebooks you create, don't fret! Keep your eyes on future Community posts where we'll announce general availability soon.
This update is not currently available in the EU Data Center. It will be available in EU Data Center when the update becomes generally available.

Unfurling improvements in Slack and Notion
Now you can paste Amplitude breadcrumb chart links and Amplitude chart edit links on Slack and Notion. Unfurl the charts to show a preview of the chart title, owner, duration, and an image of the chart.
You'll see this update when you paste a breadcrumb chart link to Slack or Notion.
These updates are not available in the EU Data Center.
---
New Data releases
Simpler processes, easier access to information
Enjoy simplified event property management in Data 
On the Properties page, you now have the power to set the property definition/rules across your schema or customize properties as "overrides" in the context of an event. 
If you are a customer with an Accounts Add-On, you can also plan groups and group properties as well as delete groups and modify group property visibility, all in Data.
Get a snapshot of the quality of tracked data with Data Home
We're excited to introduce Data Home, a new landing page experience for Data customers. This new page helps data governors understand how their data is managed within Amplitude at-a-glance, including:
Quality of tracked data in their tracking plan
Which instrumented events power their teams' insights
How events track against event volume
They can also quickly access documentation and Amplitude Academy courses to help them proactively manage their data.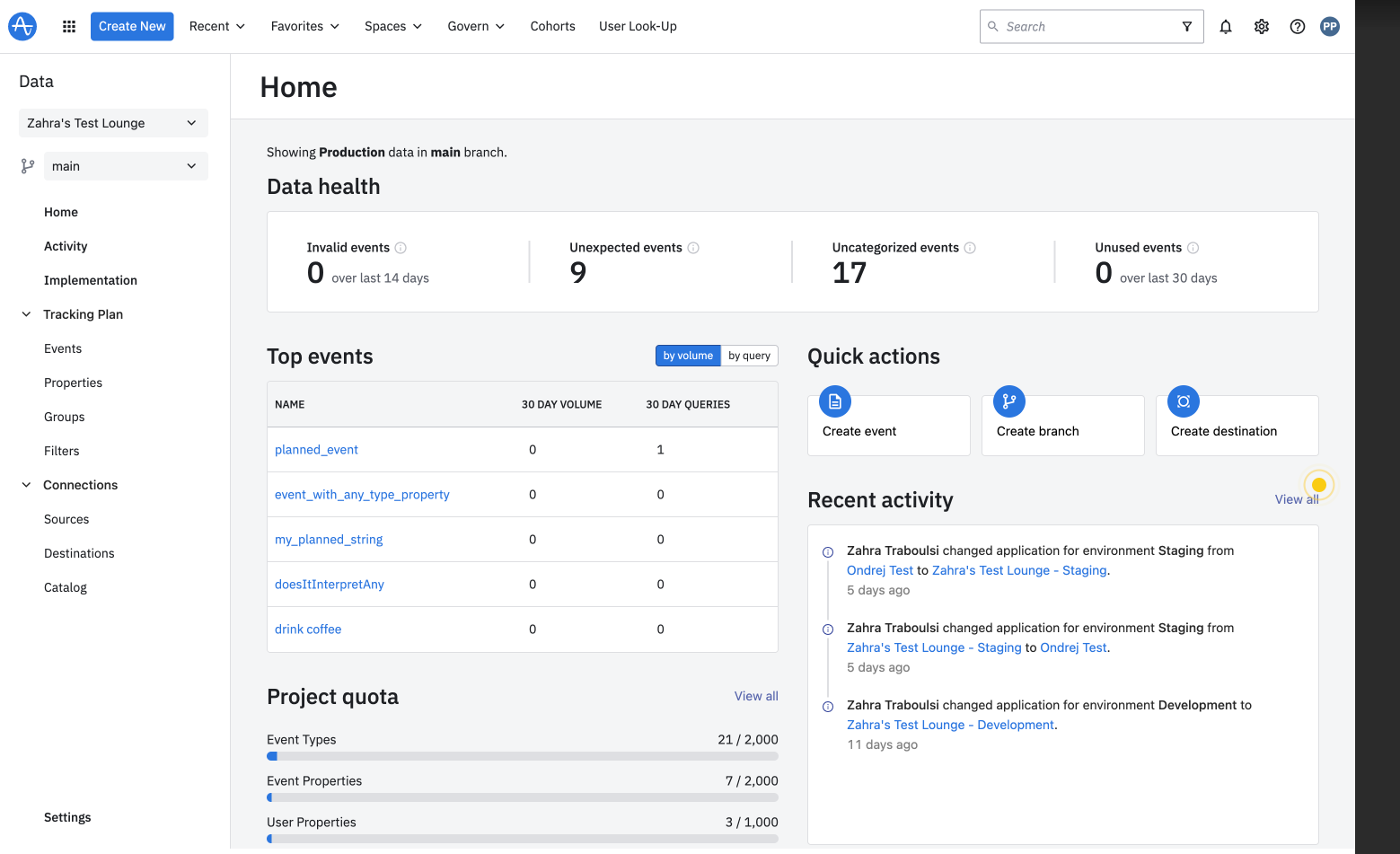 Start using new software development kits (SDKs)
In the last month, we've released three new SDKs to support your work: 
Node.js SDK
iOS 3.0 SDK (beta)
Ruby 1.0 SDK
These next-generation SDKs improve code readability, make it easier for users to inspect source code, and speed up development cycles by reducing time for addressing issues.
New Google Tag Manager template for Marketing Analytics Browser SDK
We released a Client Side Google Tag Manager template for the new SDK. The tag collects data with the Amplitude Marketing Analytics Browser SDK.
Access the tag manager template from the Google Tag Manager Template Gallery.
Learn more about the Marketing Analytics Browser SDK template in the Google Tag Manager. 
---
New Experimentation releases
Better in-product support, when you need it
Get help when you need it, integrated in-app
Now, with integrated help, you get instant access to deeper information across every component of Amplitude Experiment to help you take the best next step, faster. Integrated help offers a brief overview of each component, and links you directly to relevant help center articles, developer documentation, and other resources.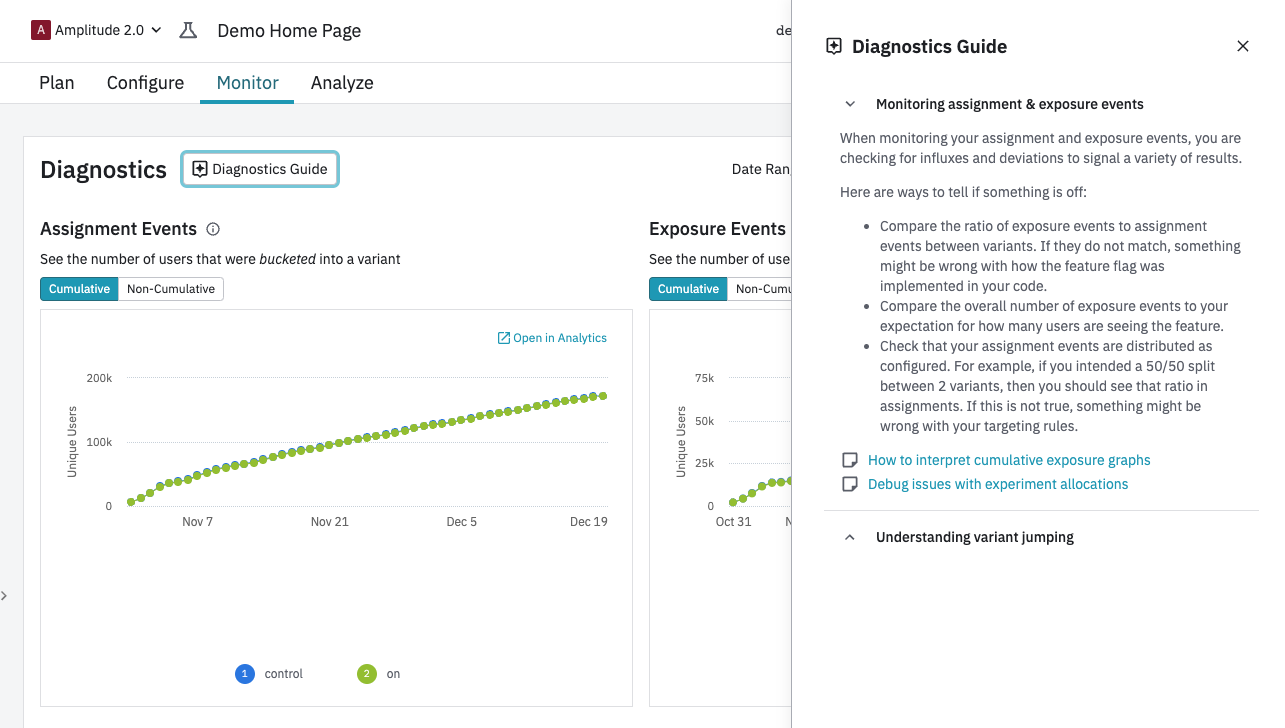 ---
Get started using these releases today