The Amplitude product team had a busy month releasing 18 (!!!) updates across our platform. 
These releases support teams in making better decisions with data, delivering better experiences for their customers, and better understanding how their experiments are running. 
Let's take a look at the highlights.
Amplitude Analytics: Features that help teams get more from their data
Make better decisions with Data Tables
Customers can analyze their most important metrics in a single view with Data Tables. This lets them unlock multi-metric, multi-dimensional analysis to improve analysis of marketing attribution, market segmentation, experiments, and more.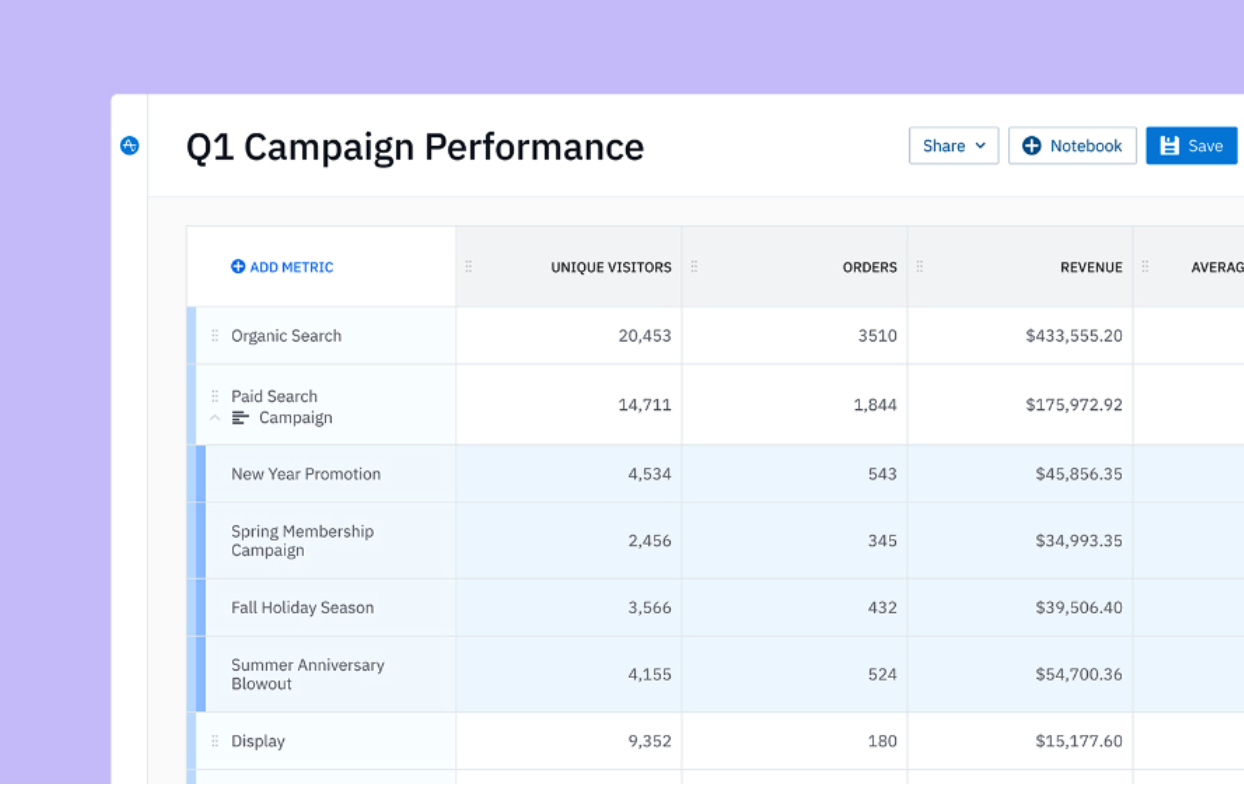 Get answers to important questions
fast
with Starter Templates
Customers can answer essential product questions quickly with out-of-the-box dashboards they can customize and save.

Not sure where you'd begin with Starter Templates? Try determining your product's North Star with a new set of Product KPIs we've released in the feature. Demo the experience for free.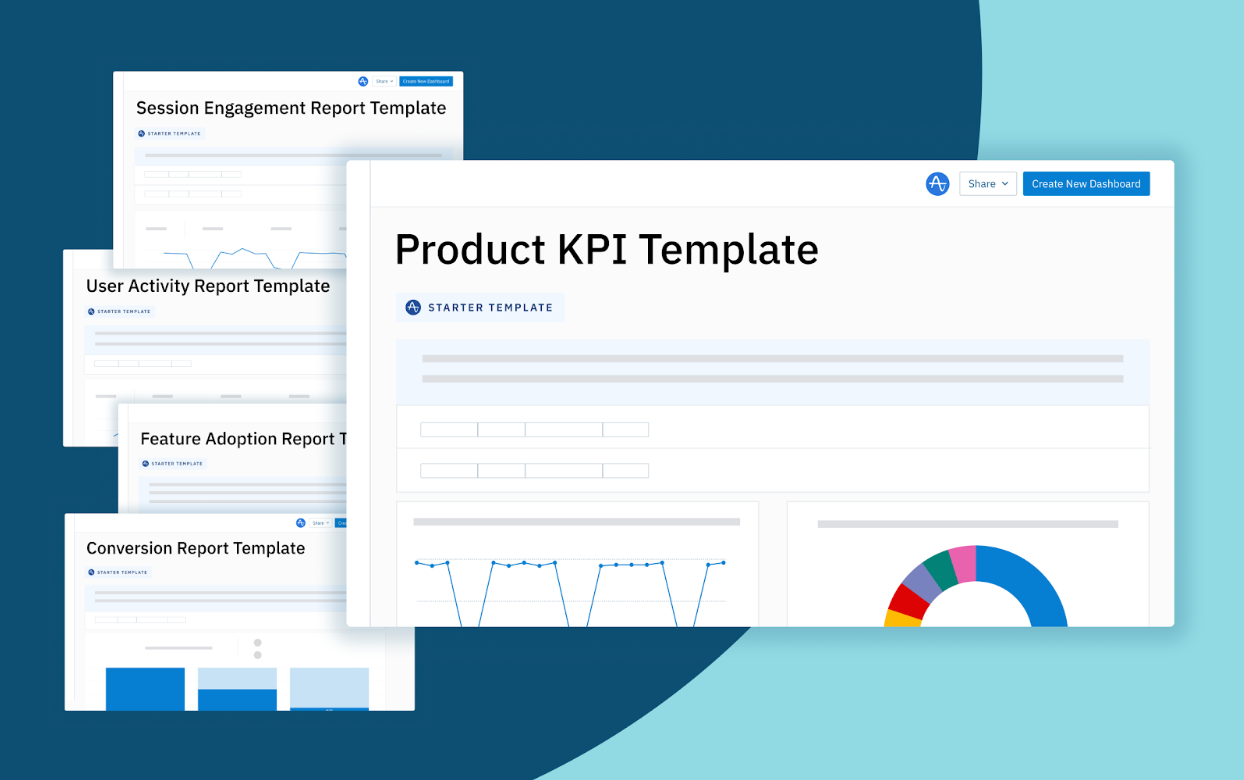 Learn more about Starter Templates.
Customize event frequency charts with new data bucketing options
By popular demand, Analytics customers can now tailor the view of their event segmentation frequency charts with custom buckets. They can choose to adjust the minimum, maximum, and interval size or use the custom bucket modal to enter their own bucket ranges.
Enjoy improvements to our user stream experience
Customers who use the user streams feature will see an improved version of the experience, accessible from most charts via Microscope. These improvements include the ability to:
Create cohorts

Export users to CSV

Filter events

Link to the user page with a clear CTA for a deeper dive into user and event information

See up to 20 users at once without having to click "Show more users"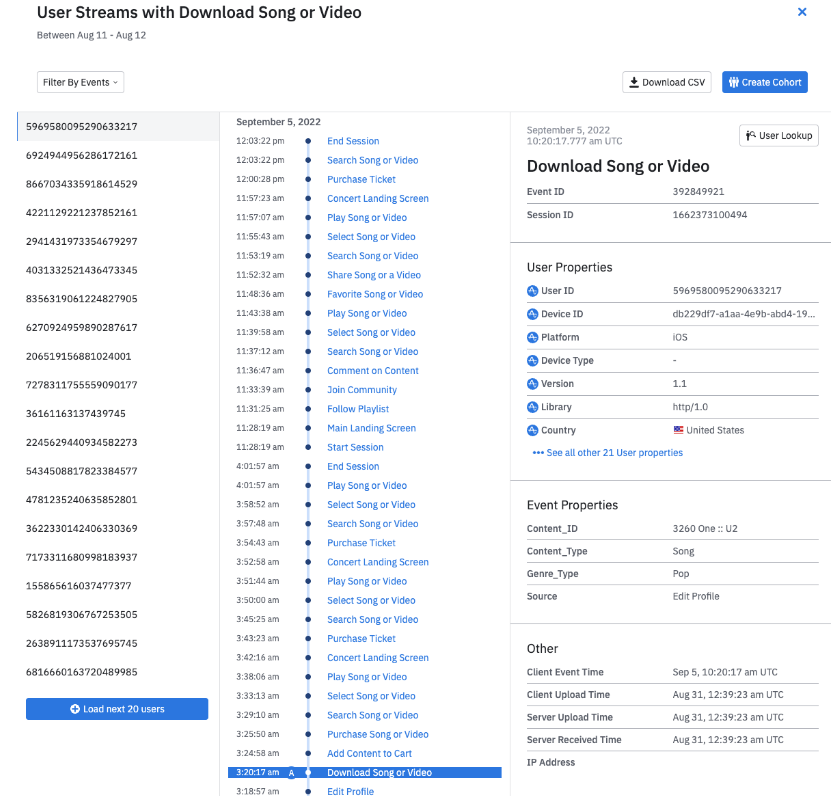 Amplitude Customer Data Platform: Better real-time campaigns and data visibility 
Recommend is now Audiences 
We're introducing Audiences as an expanded version of the product formerly known as Recommend. As the new name suggests, Audiences provides powerful audience discovery, segmentation, and activation to help customers better target their users with personalized content and experiences.
Build dynamic campaigns with real-time syncs
Update and sync cohorts every minute to create in-the-moment engagement campaigns. Real-time syncs are now available to all Audiences customers on paid plans.
Learn more about real-time syncs, and how to set them up in Audiences.
Data Management: Connect your Data Warehouse to Amplitude
Data Warehouses (DWH) Destination Connections are now available at no additional cost for all customers on Starter and Scholarship plans! Customers can access all destination connections to leading cloud data warehouses and storage providers including:
Amazon S3

Snowflake

Redshift

Google Cloud Storage

BigQuery
Learn more about setting up your Data Warehouse.
Event streaming destinations now available to all customers
Event streaming destinations enable Amplitude customers to power real-time, targeted experiences. With event streaming, you can use the rich behavioral data that is captured, resolved, and transformed in Amplitude to enrich customer profiles and send data to marketing, sales, and infrastructure tools.
This functionality is now generally available to all customers. You can stream up to 10M events per month for free! Learn more about available and upcoming event streaming destinations and upcoming destinations on our roadmap.
Simplify onboarding and managing data set configurations with Guided Configuration
Onboarding data sets to Amplitude and managing existing import configurations has never been easier. Configure a Cloud Storage import with the new Guided Configuration option. Once customers have connected their Cloud Storage (AWS S3, or GCP Storage) bucket in the Sources section of Amplitude, they can map and/or transform data to the Amplitude model specification. 
Learn more about Guided Configuration.
Support data security with new event data retention options
Customers can now control how long their data is retained on the Amplitude platform by setting an event retention policy for organization-level data stored in Amplitude. 
If you're a current customer, reach out to your account team to set up this functionality.
Filter tracking plan data right within Amplitude
With new data filtering for tracking plans, customers can drill down into table data more granularly right within their account. There's no need to download a CSV file to manipulate the data.
Stay up-to-date on tracking plan comments with Slack integration in Data
Customers can choose to get notified when someone comments on their tracking plan. They can also connect projects to Slack workspaces to get notifications about plan updates.
Learn more about Slack integration in Data.
Understand where bad data is coming from to quickly fix issues
It used to be that customers would see "unknown" sources in their tracking plan, making it challenging to find the source of bad data. Improvements to source data display all sources as shown on the connections page, now makes it easier to spot and fix errors in tracking plans.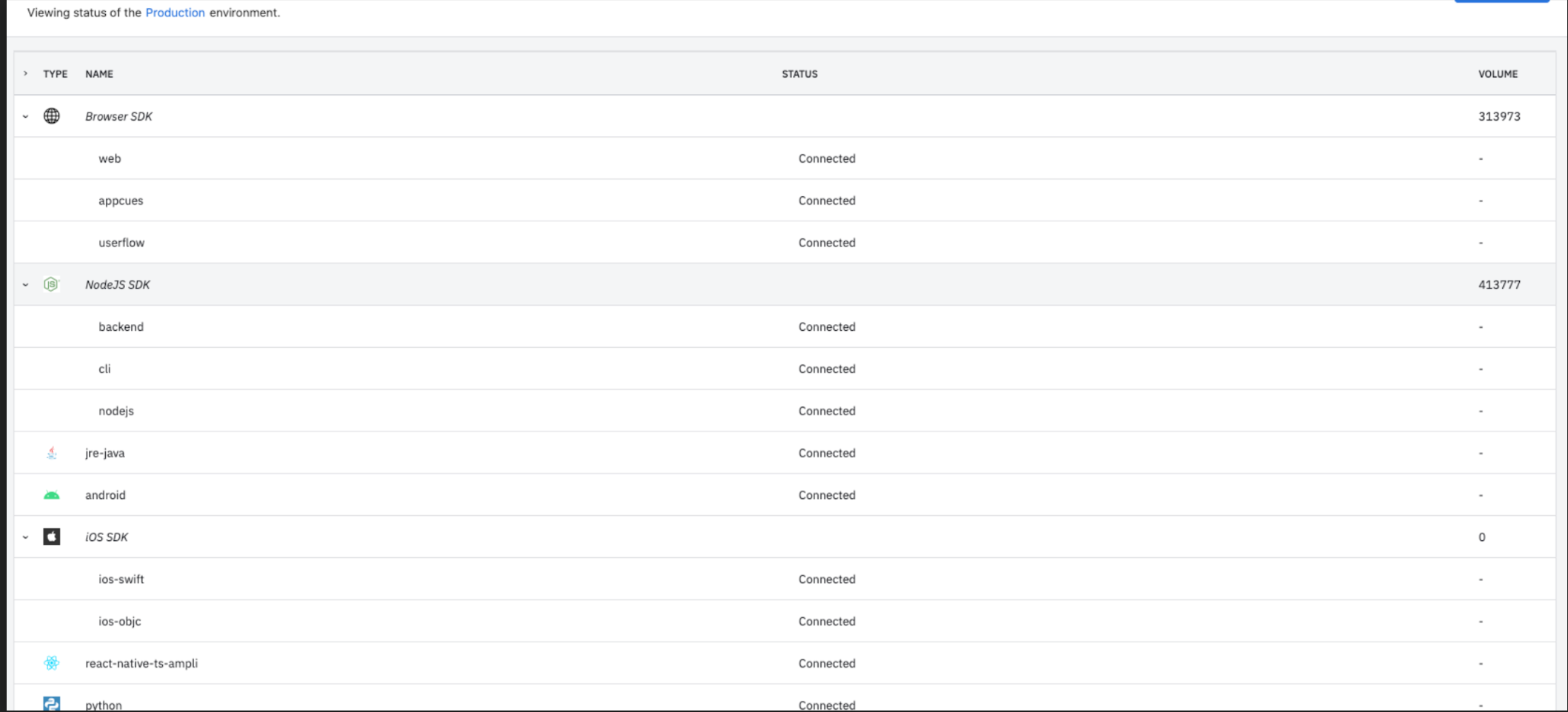 Amplitude Experiment: Experience updates help teams run quality experiments
Save overhead with new local evaluation mode flags and experiments
With new local evaluation in Experiement, customers get a boost in performance over running evaluation on a remote server. They also save the overhead of making added network requests.
Learn more about local evaluation.
Avoid accidentally making disruptive experiment changes with guardrail warnings
Once an experiment has started running, it's best practice to avoid changing how it's set up to avoid unexpected results that are hard to interpret. With new guardrail warnings, a customer who is about to make such a change to the configuration of an experiment will see a pop-up message letting them know it could impact the validity of their results.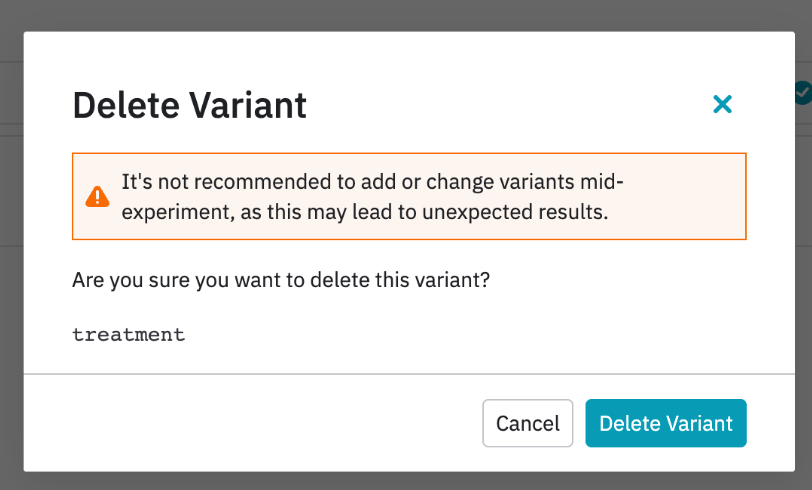 Learn more about new notifications guardrail warnings.
Understand when sample ratio mismatches happen to quickly fix them
Sample ratio mismatches (SRMs) happen when an uneven distribution of users see your control and variant in an experiment. SRMs indicate that the experiment hasn't been truly random so the results may not be conclusive. We added new charts to help customers understand whether there's an SRM in an experiment, warnings to show it's been detected, and suggestions for next steps.
Learn more about new warnings for SRM detection.
Understand at-a-glance how much longer experiments need to run 
We added a "Duration Estimate" to the experiment while it's running that shows how much longer it needs to run to achieve statistical significance.

Learn more about duration estimation.
Enjoy a better experiment completion experience
We've renamed the "Make Decision" button to "Complete Experiment" and improved some quality of life around decision making, such as the ability to roll back a decision made in error.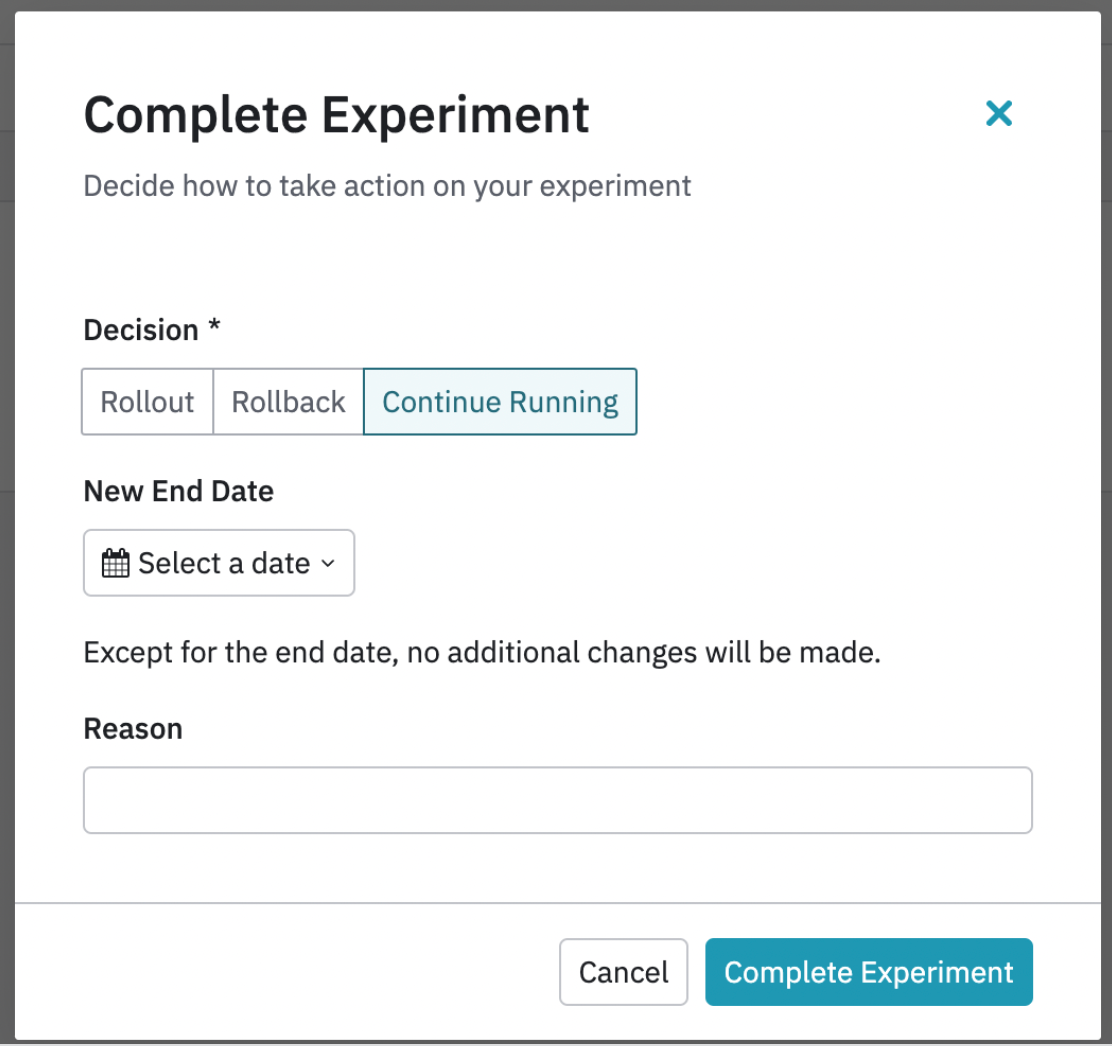 Learn more about improvements to the experiment completion experience.
There are more product updates on the way
Don't miss any of the latest product goodness! Subscribe to Product Updates to hear about them first.
Not yet an Amplitude customer? Get started for free.