Hello!
Many a times I want to verify if I have synced a given cohort to the correct Marketo field. It appears that I'm not able to view the Custom Marketo Boolean Field after a sync is performed. Once you sync, the only option is to resync it or set up a new field for another sync. Is there a way to view this field after a sync is performed?
Ideally, seeing this field alongside the following details for a cohort will be helpful -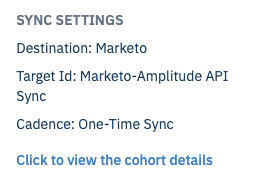 Thanks!
Best answer by belinda.chiu 31 March 2021, 22:14
@Saish Redkar Thanks for confirming! In that case, it is currently default behavior that we don't reveal the custom field outside of the Sync dialog box. However, I can definitely see how having it appear in the areas you mention would be super helpful so that you can easily see which field to look for in Marketo. I'll go ahead and submit this as a feature request to the Product team on your behalf! 
View original