The title basically.
I am looking to create a cohort of new users who've been on the app for at least 24 hours, but less than 72. Is this possible to achieve? So far I've only managed to create a filter that checks for a new user at any time in the last 3 days, but not one that checks that they signed up at least 24 hours ago.
Best answer by Saish Redkar 4 March 2021, 20:06
Hey @seb !
Interesting use case for a cohort.
I tried giving this a try using the "and not who" approach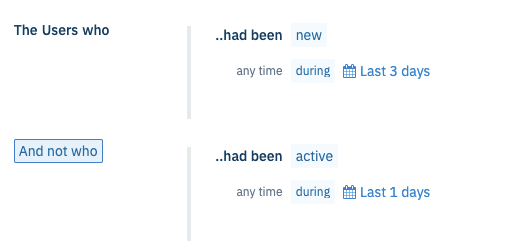 This would give the users who were new in the last 3 days and those who used it until 48 hours if my day numbers are correct in there.
You can try tweaking the "Last X days"  to test this out.
Also, since you mentioned "signed up" you can try exploring the "performed' clause and the 'within' clause

Hoping that I have interpreted your question correctly!
Let me know if this helps.
View original