I'm trying to pull in custom value (it's a property called "name" that we created) on the user lookup.
The goal: we'd like to view the User-Lookup sorted by "username" on our app, rather than the user ID (which is a string of long numbers)
Any ideas?
Best answer by Saish Redkar 3 February 2021, 04:06
Hey @Elliotspark ,
From what I know, we can only select and sort only on the default Amplitude User properties in the User & Account Look-Up tab/section. Not sure if this can be tweaked or not yet.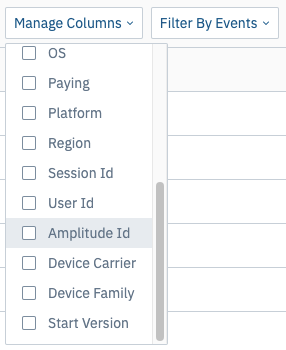 Here's my take on the workaround based on my understanding of your end goal:
You might have to reset the User Id property as the value of your custom "name/username" property going forward if you really need to sort on that in the user lookup results. This could potentially cause user identification issues since the user id property won't be consistent anymore ( numeric vs text ) and the instrumentation will have to be started afresh in a new project.
Hope this helps! 
View original