Hi,
I've been spending some time in Amplitude's "Retention Analysis" recently, and we've had some great insights! Though am a little confused on the best way to segment users based on events.
E.g. Say I have is a music player app (like Spotify), I can create a starting / return event of "Played song".
Then I want to see if users who loaded the "Viewed top 40 hits" are more retained or less than baseline.  I would then go to the "...performed by User" section (on the right) pick users "who performed" "Viewed top 40 hits", which will create a new segment that I can compare.
This makes sense, though I'm confused how the different "any time" dropdowns work e.g.
If I pick "during last 30 days" (the default), does that mean in the breakdown, any week AFTER 30 days will only contain users who viewed the top 40 hits in the last 30 days?  
This doesn't seem like a good metric so perhaps using "within" makes more sense - so we can get a better understanding of users in the past and not just users who performed the action in the last 30 days.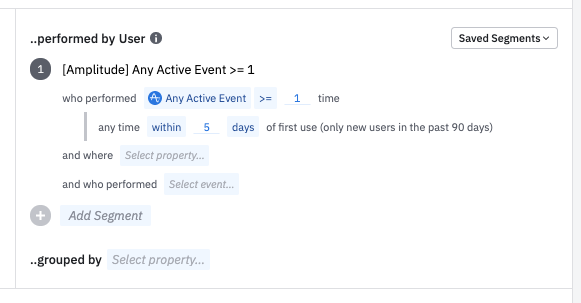 So I guess my questions:
Is my understanding of how the different "any time" selectors correct?
Is using the "within 5 days" metric a better way to segment users to compare different retention rates
If not, is there a better way to measure?
And final question if there is, is there a way to increase the 90 days to a longer time period (say 6 or 12 months)?
Thanks
Jerrold
Best answer by Denis Holmes 29 September 2021, 19:05
View original